Frameless Behavioral Healthcare Board by Patient Care Boards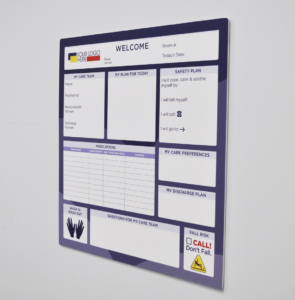 Patient Care Boards is the leader in the planning, design and fabrication of unique patient communication boards. Our boards help engage patients, hospital staff, and family/loved ones in a proactive cycle of communication that is necessary for active participation in the successful delivery of the patient's care plan.
In response to many requests from healthcare providers, Patient Care Boards pioneered the Frameless Behavioral Healthcare Board to be used in settings where the typical aluminum framed patient communication board is not an option due to safety concerns.
Our goals for the Behavioral Health Communication board are to give caregivers a safe and easily manageable communication tool that will help deliver and reinforce information related to the patient's stay in a clear, non-threatening and reliable manner.
Our lightweight Frameless Behavioral Healthcare Board offers all the same attributes as our regular patient boards including:
Each board is custom-designed for your specific departmental information needs.

The boards are durable with a tough laminated transparent dry-erase surface layer sealing the graphic content.

The board surface is capable of withstanding constant cleaning with commonly used hospital cleaning materials.

The boards are lightweight with the graphic surface bonded to a safe foam board backer.

A typical 24" x 36" Frameless Behavioral Healthcare Board

weighs less than 16 oz and can be easily mounted with the supplied industrial-strength double-sided tape.

Modular standard and custom sizes available.

Standard designs and sizes are available in stock for Quick-Ship projects
For more information please contact contact@patientcareboards.com or Start Your Patient Care Boards order today!
Complete our inquiry form in 5-minutes or less to tell us a little about your project. Our team of specialists will review your requirements and contact you to discuss all of the details. No payment is due until your order goes into production. We ensure your boards are produced exactly as you need them.