Case Study: Valley Children's Healthcare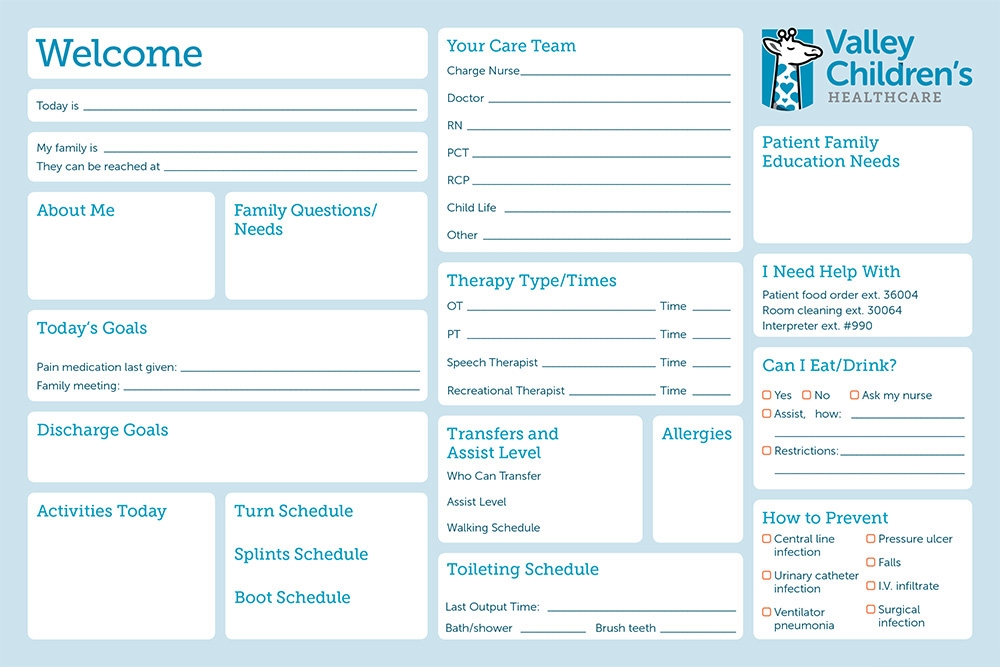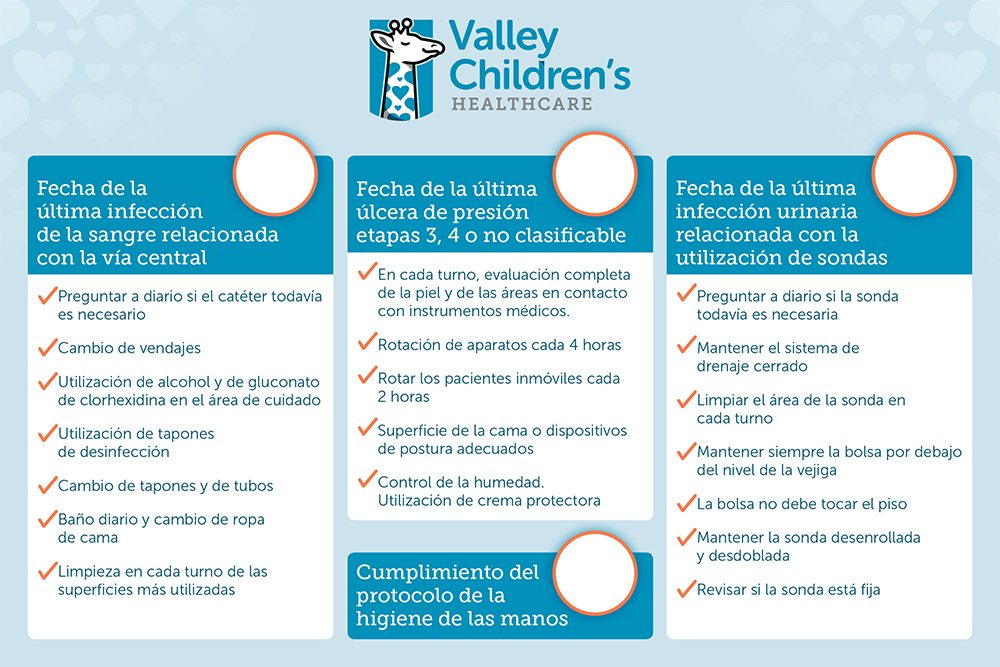 A Comprehensive New Dual Language Communication Board System
Valley Children's Hospital, an affiliated teaching hospital of Stanford University and the University of California San Francisco, is a 358-bed pediatric facility located on the San Joaquin River just north of Fresno, California.
The organization chose to incorporate the elegantly simple patient care boards as an innovative tool to allow for effective handoffs and efficient care planning for patients, their families, doctors and nursing staff.  In addition, there was also a need to create a transparent way to track quality and to promote and embrace best practices.
To serve the diverse population that the hospital supports, boards were created with inserts in English and Spanish specifically to foster very clear and concise communication for patients, family and caregivers.
The layout of the inserts was consistent hospital-wide, however, the content was formulated to address the specific needs of each individual unit type (rehabilitation, medical/surgical, NICU and PICU). The client also utilized additional custom frames and inserts to develop quality and prevention boards that address specific concerns in each unit type.
As performance improvement goals are updated, the boards will be easily transformed to meet future needs.
Case Study: Cedars-Sinai Medical Center
System-wide Patient Communication Board Implementation
At the request of senior leadership at Cedars-Sinai Medical Center, we were asked to create a board-based communication system for hospital-wide implementation.
The result was over 800 installations with a common thematic program promoting the specific needs and goals of individual units across the campus.
The goal was to make the patient board an integral part of the room design strategy and to serve as a key communication interface for patients, staff and families.
Every medical facility should consider the patient-centric Cedars-Sinai Medical Center approach when developing a strategy to improve patient satisfaction. Start with a prototype unit with a patient board as a key element. It will quickly prove to be an essential part of the patient communication experience.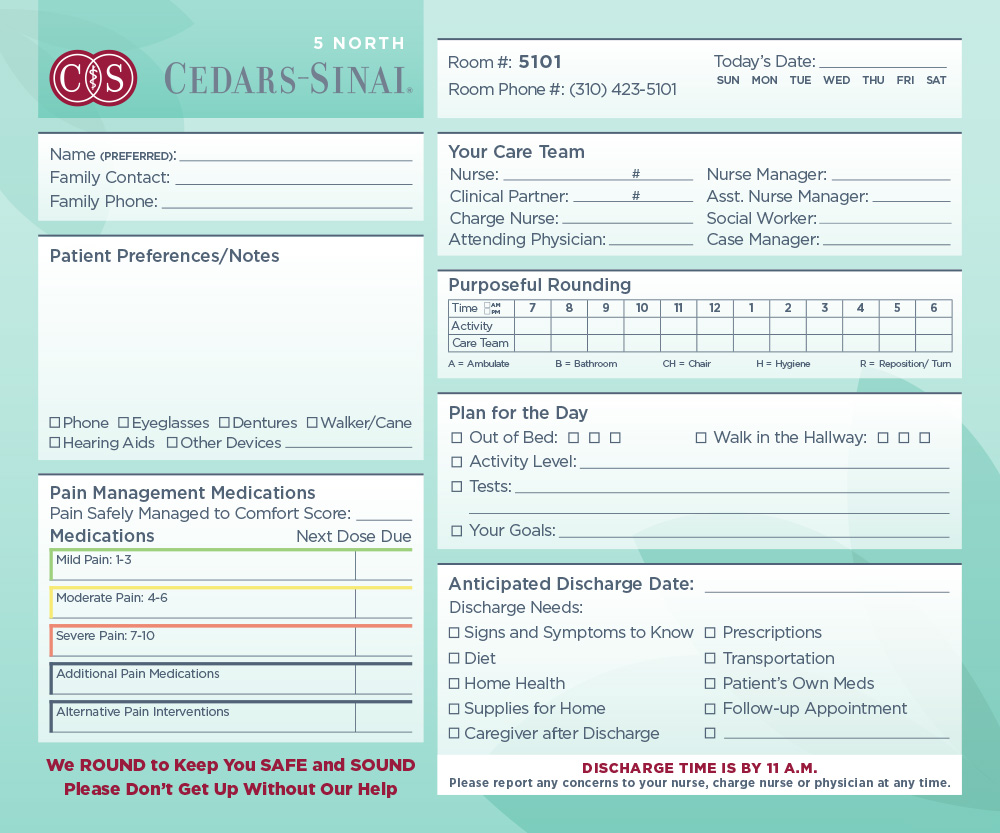 Case Study: Stanford Health Care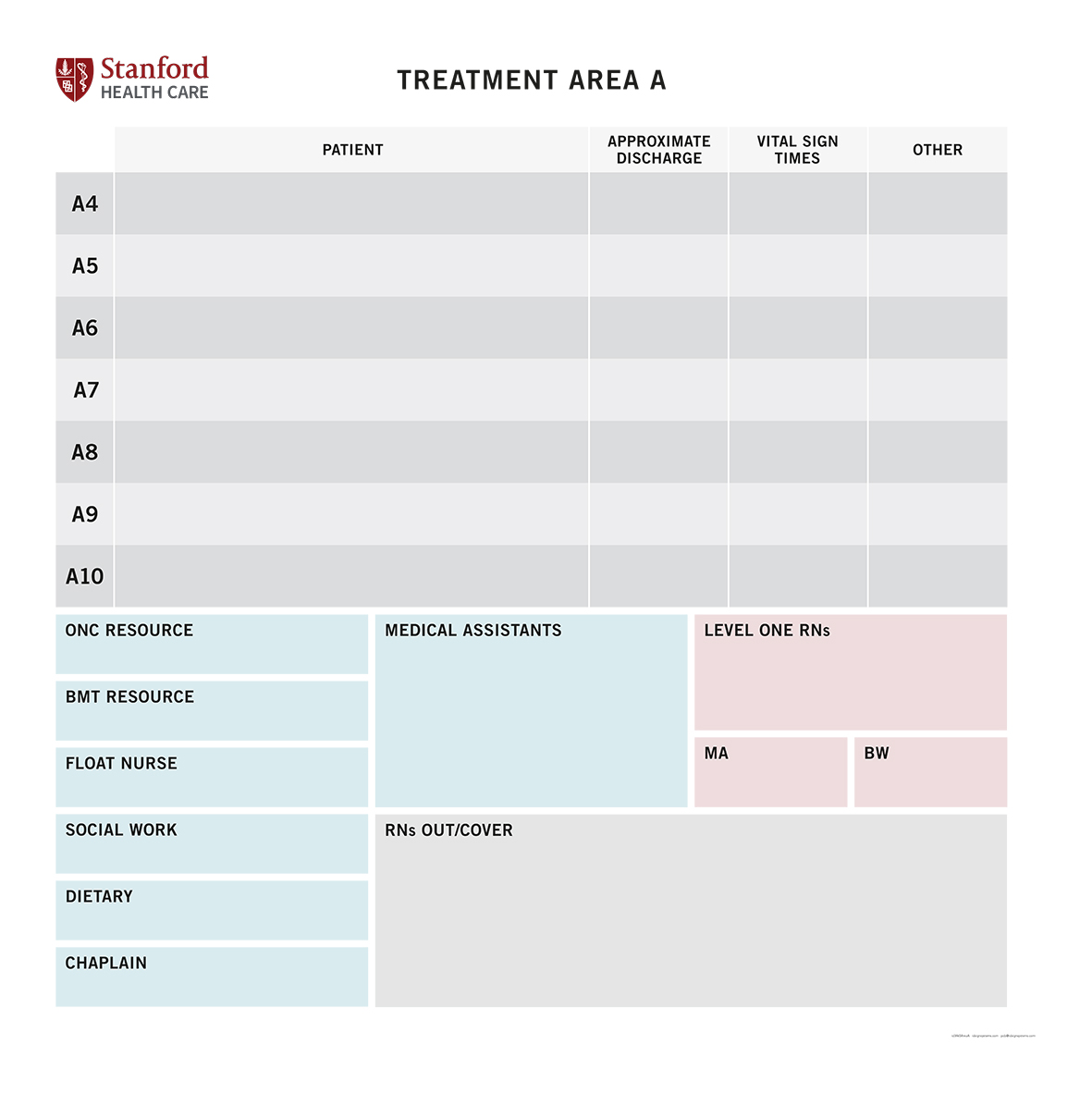 Customized Solution for Oncology Patient Care Boards
We were presented with the challenge of creating a customized solution for patient care boards for Stanford Health Care, a top-tier academic cancer center.
The solution provided the ability to safely track patient flow and allowed for a single source to identify support resources for the unit.
Better communication results in improved patient care and satisfaction. We can customize to your needs whatever they may be.
Case Study: Korean Cultural Center
Multi-Lingual Medical/Surgical Board
The Anaheim Regional Medical Center is a multi-ethnic environment where the staff felt a high level of importance should be placed in furthering communication for patients of every ethnicity.
We have the ability to produce inserts in a variety of languages. We understand different communities have different translations, therefore we rely on the hospitals for translations to ensure communication with patients is effective.