Patient Care Boards specializes in delivering carefully researched, custom-designed communication solutions developed exactly to your specific needs. Our patented system provides reliable, affordable, durable and sustainable solutions for a variety of needs within healthcare facilities.
With our boards, viewers can clearly see names of caregivers, schedules for treatments or activities, dates, telephone numbers, daily goals of care, anticipated discharge and other institutional information. The combinations are up to you.
Boards can be customized with a variety of text and image fields to reflect your organization's branding and communicate in the most effective manner for your culture.
All variations are easy to install and can be modified to adapt to organizational growth as well as the ever-changing terminology, preferred practices and quality standards of the medical field, saving you time and money. We also offer a variety of communication board accessories to complete your system.
Our patented product (U.S. Pat. No. 8,808,006), manufactured in the USA, uses a multi-planar technology that has been tested in some of the top medical institutions and medical teaching facilities in the country.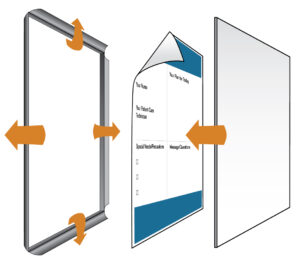 STURDY ANODIZED-ALUMINUM FRAME
The frame clicks open on all four sides to easily change graphics, sanitize and install.
CUSTOM, CHANGEABLE INSERT
Inserts can be printed in various languages (Spanish, English, Cantonese, etc.) or font sizes and have the ability to be stored behind one another for maximum flexibility in your patient communication board. Customize your insert to meet your patients' needs.
CLEAR DRY-ERASE FACE
Sturdy, easy-to-clean, dry-erase surface
Available Communication Board
Accessories