Custom Patient Communication Board for All Units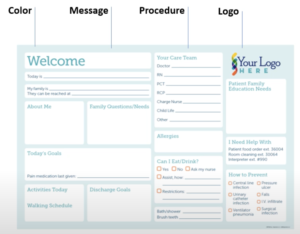 Patients and families in a hospital setting report greater satisfaction with both communication and involvement in health care decisions when key information is supplied on custom patient communication boards.
Our U.S. patented patient communication board system has proven to be extremely effective in top medical institutions and teaching facilities in both the United States and Canada by contributing to increased overall patient satisfaction scores.
Customized to the needs of each hospital, our communication boards act as a visual tool to display important patient and institutional information which ultimately results in better communication.
Not all healthcare information is created equal and as institutional patient care initiatives and regulatory and compliance mandates change, the content of the boards can and should be changed. The clear dry-erase acrylic writing surface and custom changeable insert makes this extremely cost-effective and possible to keep the information up to date. Additionally, the needs of the specific content for various unit types can be customized to the workflows and patient care challenges that each unit faces.
Before rolling out our patient custom communication board to all units in a hospital, many organizations choose to trial a prototype board for all beds in a single unit. After eliciting feedback from staff, patients and families, the perfect content can be rolled out to the entire healthcare facility. This is also an opportunity to use the patient custom communication boards as a branding opportunity to promote progressive and efficient approaches to overall patient communication.
For more information please contact contact@patientcareboards.com or Start Your Patient Care Boards order today!
Complete our inquiry form in 5-minutes or less to tell us a little about your project. Our team of specialists will review your requirements and contact you to discuss all of the details. No payment is due until your order goes into production. We ensure your boards are produced exactly as you need them.