COVID-19 Dry-Erase Communication Boards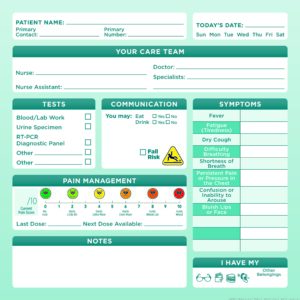 For many hospitals, patient communication is often managed by a scruffy, poorly organized dry-erase whiteboard.
For patients and their loved ones, access to clear, well-managed information is reassuring. Studies have shown patient communication boards reduce stress levels and increase patient satisfaction scores.
Patient Care Boards has developed a wide range of updatable COVID-19 dry-erase communication boards that are custom-tailored to the needs of each individual ward and unit.
After intense consultation with frontline care providers we have developed a COVID-19 dry-erase communication board that is cleanable, updatable and, if necessary, disposable.
For more information please contact contact@patientcareboards.com or Start Your Patient Care Boards order today!