COVID-19 Dry-Erase Communication Boards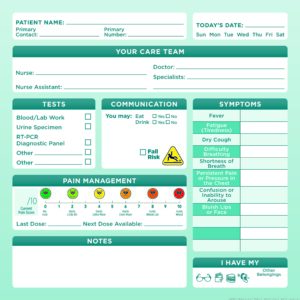 For many hospitals, patient communication is often managed by a scruffy, poorly organized dry-erase whiteboard.
For patients and their loved ones, access to clear, well-managed information is reassuring. Studies have shown patient communication boards reduce stress levels and increase patient satisfaction scores.
Patient Care Boards has developed a wide range of updatable COVID-19 dry-erase communication boards that are custom-tailored to the needs of each individual ward and unit.
After intense consultation with frontline care providers we have developed a COVID-19 dry-erase communication board that is cleanable, updatable and, if necessary, disposable.
For more information please contact contact@patientcareboards.com or Start Your Patient Care Boards order today!
Complete our inquiry form in 5-minutes or less to tell us a little about your project. Our team of specialists will review your requirements and contact you to discuss all of the details. No payment is due until your order goes into production. We ensure your boards are produced exactly as you need them.