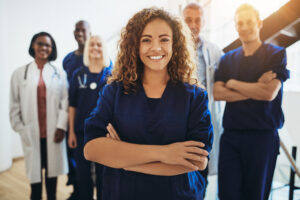 Ordering communication boards for your healthcare facility is an easy 3-step process here at Patient Care Boards. Step two of the process is where the fun begins – customization! 
How does healthcare communication board customization work?
Because the design and fabrication of our products are done in-house by our teams, we can create a board to your exact needs and specifications. The inserts are designed to meet a wide variety of specifications depending on the facility, unit/department, or team's needs. Providing these customization options means you are not locked into formatting that isn't relevant to your facility.
Some of the most common customizations are:
Branding elements – Your inserts need to be designed according to your brand, from logo to colors, value statement, and other style elements that are important to drive a visual consistency for your facility.
Sizing – We understand that space restrictions might exist in a facility; therefore, we create our communication boards in standard and custom sizes to accommodate your available space.
Multi-language – All inserts can be customized in the languages you need to serve the demographic of your patients and staff.
Solution-oriented – Inserts can be customized based on the user group, like safety and prevention, huddle boards, behavioral boards, and patient care.
Start with a template and build from there – Patient Care Boards offer many pre-designed templates for Unit and team needs. You have the option of starting with a pre-designed solution and customizing from there. We have insert templates for the following: Med/Surg, ICU, ED, L&D, Mother/Baby, Post Partum, NICU, PICU, CICU, Inpatient Floor, Critical Care, CV Acute, Dialysis, Rehab, Triage, Pediatrics, Neuro Med Surg, Ortho, Progressive Care, Hospice, Short Stay, ATC, and Oncology.
During the initial phase of the ordering process, we provide ideas for some of the most common customizations and ask for any customizations outside of the standard ones. Your custom board order includes two rounds of revisions to ensure we get the design of your boards exactly to your liking before the order is finalized and printing begins. 
Once printed, the customized inserts fit perfectly and easily in the aluminum frame. One board can house multiple inserts. This allows for easy changeability when needed.
Our goal is to create communication boards that meet your every need. See how we've provided a healthcare board customization system for top facilities across the country in our customer case studies. 
Complete our inquiry form in 5-minutes or less to tell us a little about your project. Our team of specialists will review your requirements and contact you to discuss all of the details. No payment is due until your order goes into production. We ensure your boards are produced exactly as you need them.