Ideal Hospital Dry-Erase Board Guidelines
All hospital communication boards are not created equal – especially when it comes to the value and effective use of these boards in the healthcare environment.
Can a hospital whiteboard improve the level of care and the patient experience?
Absolutely, if you follow these important guidelines:
Updatable
It is incredibly important to implement a medical dry-erase board that can change with the needs of your facility. Choosing a totally customized patient communication board system enables a hospital to make sure that all their goals and needs are addressed and are always kept current.
Clarity
We frequently see patient communication board designs that are extremely cluttered and difficult to read –  or – too simple where pertinent information has been overlooked. The ideal hospital dry-erase board should address information that is of value to the patient, loved ones and hospital team which would include nurses, physicians and support staff. The main goal of the board is to convey with clarity health care information and deliver patient satisfaction.
Execution
The entire board must be updated at the hand-off of each shift. A hospital whiteboard that is not kept up to date sends a very clear message to the patient and their family that the hospital team is not paying close attention to their needs and concerns. The dry-erase board helps to eliminate medical and careless errors. 
If the information on the patient communication board is poorly managed, the hope of achieving a positive outcome diminishes. The lack of attention to detail may change the patient's mind about the overall approach to healthcare at the hospital.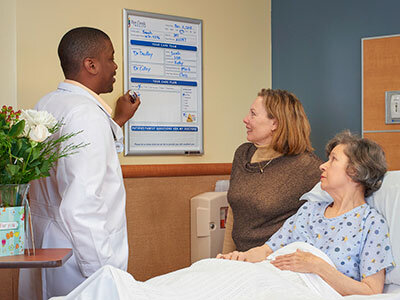 Improved patient satisfaction and engaged understanding can be delivered by putting a hospital communication board in every inpatient room. The patient communication board creates a clear and concise way to structure and present important information that must be communicated between and among patients, loved ones and hospital staff. The board can dramatically improve the quality of care and efficiency of execution of the treatment plan and progress.
For more information please contact contact@patientcareboards.com or Start Your Patient Care Boards order today!
Complete our inquiry form in 5-minutes or less to tell us a little about your project. Our team of specialists will review your requirements and contact you to discuss all of the details. No payment is due until your order goes into production. We ensure your boards are produced exactly as you need them.