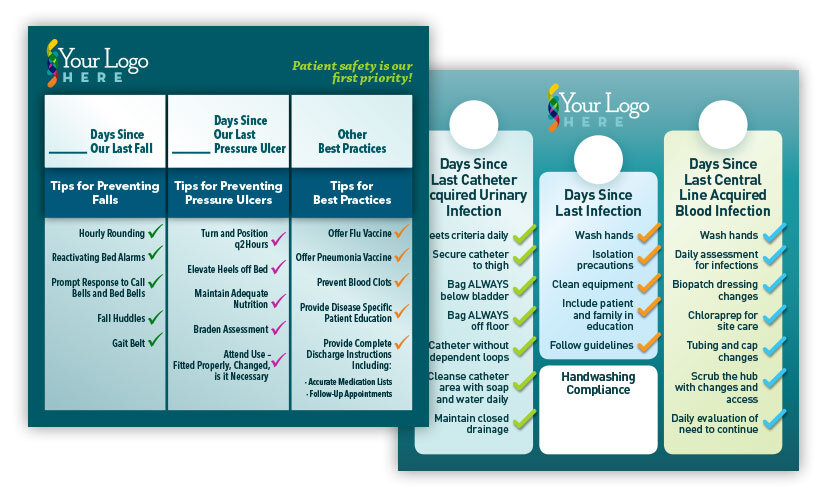 Hospital Quality & Prevention Management Communication Boards
Although elegantly simple, the Patient Care Boards Hospital Quality & Prevention boards are the culmination of extensive field research. These boards are the optimal tool to allow for effective handoffs and efficient care planning.
Our Quality & Prevention boards create a culture of safety.  These hospital communication boards provide a perfect platform for setting appropriate goals of care and keep your teams focused on the prevention of errors.
As patient satisfaction scores are playing an increasingly significant role in reimbursement, our medical dry-erase boards provide efficiency and clarification.
As institutional patient care initiatives, and regulatory and compliance mandates change, the content of these hospital Quality & Prevention communication boards can and should be changed. 
The content on different nursing units can be customized to the workflows and include essential elements to that unit. These hospital whiteboards can be used as custom debriefing boards to improve outcomes and support a collaborative work environment. They provide a central location and organized means to communicate important information. This is also an opportunity to use the boards as a branding tool to promote progressive approaches to patient communication and care.
For more information please contact contact@patientcareboards.com or Start Your Patient Care Boards order today!
Complete our inquiry form in 5-minutes or less to tell us a little about your project. Our team of specialists will review your requirements and contact you to discuss all of the details. No payment is due until your order goes into production. We ensure your boards are produced exactly as you need them.