Not Your Typical Hospital Whiteboard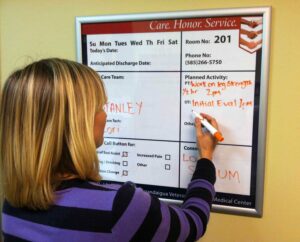 Although elegantly simple, the Patient Care Boards' patient communication board, also known as the medical dry-erase board, is a culmination of extensive field research on the optimal tool to allow for effective handoffs and efficient care planning for patients, their families, doctors and nursing staff.
The boards provide a perfect platform for setting appropriate goals of care and daily milestones in a hospital setting.
Increasingly, nurses are performing bedside change of shift reports, and the PCB medical dry-erase board is an ideal tool to facilitate that process. As patient satisfaction scores are playing an increasingly important role in reimbursement to the hospital, the board provides an efficient mechanism for patients and families to convey concerns to the hospital staff before problems or issues can escalate to more significant concerns.
Our board is composed of three easily replaceable pieces: the wall-mounted aluminum snap frame, the clear dry-erase acrylic writing surface and the water-resistant artwork insert.
You can customize your boards unit by unit (Med/Surg, NICU, PEDS, ICU, Postpartum, Labor and Delivery) including room and corresponding telephone number, key staff member names, hospital logo, mission statement and any other information you would like to have visible on the board to improve communication and efficiency and avoid errors.
Our unique boards also create a branding opportunity for your hospital. Why settle for an outdated hospital whiteboard when you can create a customized communication board that will ultimately enhance the patient experience?
For more information please contact contact@patientcareboards.com or Start Your Patient Care Boards order today!
Complete our inquiry form in 5-minutes or less to tell us a little about your project. Our team of specialists will review your requirements and contact you to discuss all of the details. No payment is due until your order goes into production. We ensure your boards are produced exactly as you need them.